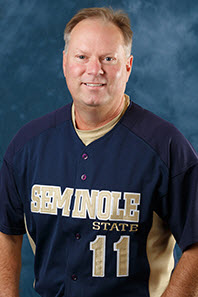 Mike Nicholson is the current head coach of Seminole State College's Raider baseball team.
Nicholson also served as head coach of the Raiders from 2001-08 before a four-year stint as Assistant Director of Athletics. In his final season during his first term as head coach, Nicholson led Seminole State to the Mid-Florida Conference title.
In eight previous seasons as head baseball coach, he compiled a record of 258-186. He also led Seminole State to a state championship and a JUCO World Series appearance in 2003, which earned him the FCCAA Coach of the Year Award.
During his tenure, Nicholson's teams competed in four NJCAA Regional Tournaments and won two Mid-Florida Conference titles. In 2007 and 2008, he was named the Mid-Florida Conference Coach of the Year.
Over the years, Nicholson helped 47 Seminole State baseball players earn Academic All-Conference honors, including 25 who went on to earn Academic All-State honors, and four who became Academic All-Americans. His players had a graduation/transfer rate of 90 percent, and at least 22 were signed to professional baseball contracts.
A native of Bessemer City, N.C., Nicholson earned his bachelor's degree in parks and recreation administration from Wingate University and his master's degree in physical education from Virginia Tech. He currently lives in DeLand with his wife, Carolyn, and their son, Keith.